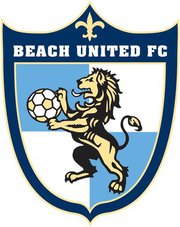 BUFC teams compete in various regional and state leagues depending on the level of the team. Many of our teams garnered top honors in their league play and at some of the best tournaments throughout the Southeast.
Our May Evaluations give players from around the Myrtle Beach area the opportunity to join a BUFC team for the 2017/2018 seasons. All Players interested in trying out for Beach United Football Club must pre-register online.
U8-U12 Boys & Girls must register by midnight on May 9th, 2017.

U13-U19 Boys & girls must register by midnight on May 14th, 2017
NEW AGE MATRIX – Boys & Girls
U8-U12:
Players born in 2010, 2011, 2010, 2009, 2008, 2007 & 2006.
(Jan 1 thru Dec 31 of these years).
U13-U19:
Players born in 2005, 2004, 2003, 2002, 2001, 2000, 1999 & 1998.
(Jan 1 thru Dec 31 of these years).

Dates & Times
U6-U12: Wednesday & Thursday, May 10th & 11th (5:30 - 7:30pm)
U13-U19: Monday & Tuesday, May 15th & 16th (5:30 - 7:30pm)
Location: Market Common Grass Fields (1004 Meyers Avenue)
Rain Date & Time -if needed: Wednesday May 17th (5:30 -7:30pm)
Day of Tryout/Evaluations Schedule
4:30-5:30pm - Registration - both days
5:30- 6:00pm - Individual warm up
6:00-7:30pm - Tryout/Evaluations
6:15-7:15pm - Parent Meeting - both days
What to Bring: Cleats, water, shin guards and Medical Release Form
Cost: $30 per player
How to Register:
Go to beachunitedfootballclub.com.

Click Register/Manage from toolbar at top of page.

Choose Tryout/Evaluation Fall 2016 as Program and proceed as directed.
For More information please contact Thuba Nkomazana @ 843-267-0164.